Hôtel des Vignes
Sion Uvrier
Hotel des Vignes is a charming 4-star hotel that offers comfortable and spacious rooms in a peaceful atmosphere.
Advantages of our hotel
Ideal location
5 minutes from the city of Sion and close to nature activities
Spacious rooms
rooms from 25 to 50m2 ideal for large groups
Energy Terminals
2 x 22kW outlets from Energie 360° supplier
Coworking Space
free of charge for hotel guests during their entire stay
Our Services
Spend a unique stay in our company.
Accommodate yourself in the middle of the vineyards of Sion.
Welcome to the Hotel des Vignes in Sion
First of all, it is our great pleasure to welcome you to our hotel in Sion in Valais. Discover Sion, known as the sunniest city in Switzerland, and its diverse region.
A description of our hotel located in Sion
In the middle of a magnificent green park, the Hotel des Vignes is located in the heart of the Valais in Uvrier-Sion.
It is the ideal place for a business stay, a romantic getaway or a family vacation in Valais.
Thanks to its central location, it is the ideal starting point for numerous ski resorts, popular golf courses, bike rides or to discover the local wines.
Opened in 1991 and renovated in 2015, the Hotel des Vignes is a charming 4-star superior establishment with cosy and spacious rooms in a peaceful atmosphere.
In addition, we offer creative cuisine in our restaurant "Le Bistrot du Lounge", a beautiful sunny terrace, a lounge bar and Cigar Lounge as well as rooms for all your events.
In a few words the hotel des Vignes is
A unique and luxurious 4 star hotel in the destination of Sion. Moreover, it is close to public transport and the airport of Sion. Moreover, our clients particularly appreciate its quiet location and its proximity to the city of Sion.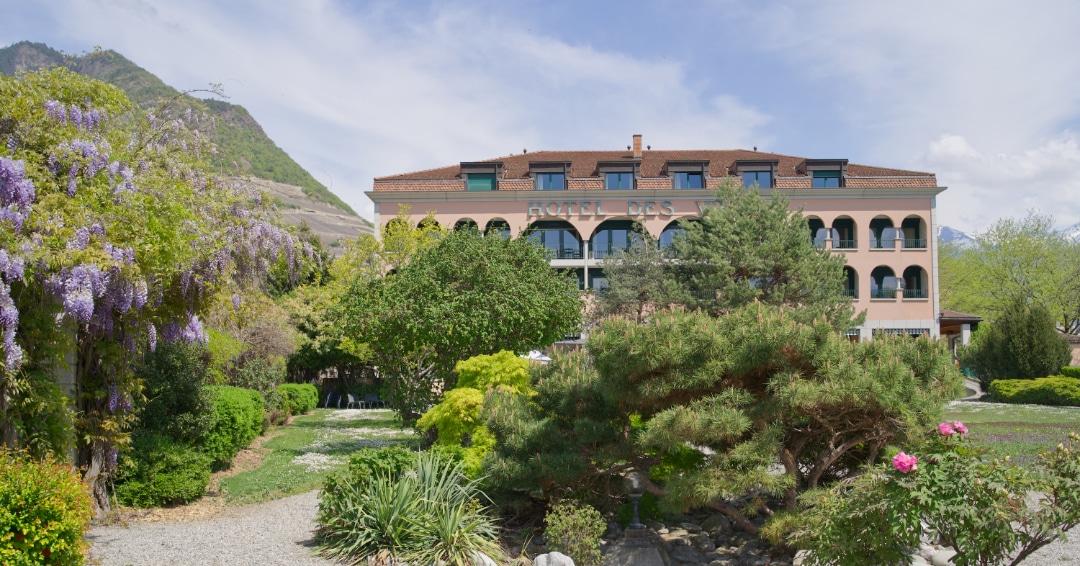 Indeed, the hotel is located in the middle of the vineyards in a magnificent park of 12'000 m2. To conclude, the most appreciated elements of the hotel are the view from the balconies, the air conditioning and the renovation of the rooms.
In conclusion, enjoy your stay in a unique hotel in Sion and in a private setting outside the city. In addition, take advantage of the inter-regional train stop at the St-Léonard station, which is a 5-minute walk from the Hotel des Vignes. In 3 minutes you will be at the station of Sion.
What our guests say about our hotel
Chère cliente, Cher client
Nos horaires sont modifiés durant la période des fêtes de fin d'année, du 24 décembre 2022 au 2 janvier 2023.
Accueil et départ
Réception ouverte de 16h00 à 18h00, merci de nous communiquer votre heure exacte d'arrivée (arrivée tardive possible)
Le règlement de votre séjour se fera à votre arrivée, en espèces ou par carte de crédit, arrivée tardive, le montant sera débité de votre carte de crédit
Checkout uniquement jusqu'à 11h00
Restauration
Petit-déjeuner de 07h00 à 10h00
Aucun service – Restaurant, bar, lobby, fumoir fermés
Entre 16h et 18h possibilité d'acheter des boissons à la réception (minérales, vin, bière)